Happy Monday, friends!
Let's get creative this week, huh?
I don't know about you, but I've got art in my heart, so it's incredibly important (and inspiring) for me to encourage creative expression in my kiddos.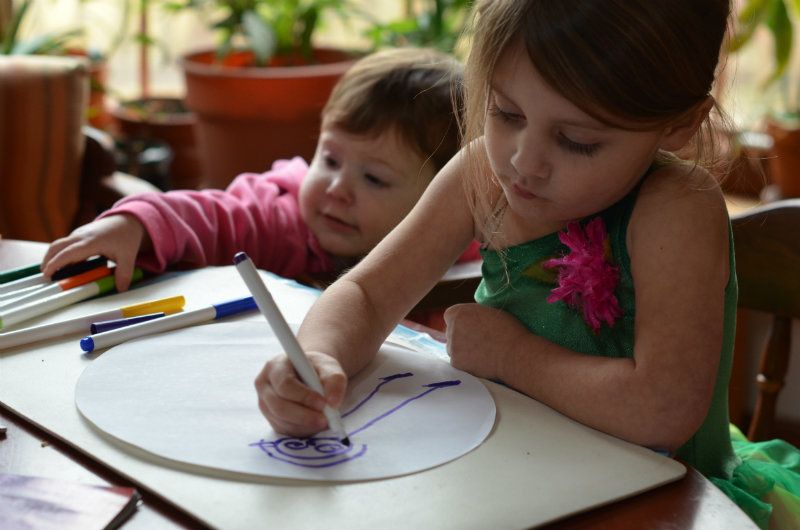 Everything they create is a unique masterpiece- footless stick figures, swirling sunshine and purple-maned unicorns in trees. Move over, DaVinci!
But sketches often crumple when art-time morphs into dress-up, and sunlight fades the watercolor paintings in our windowsill. Lamination, framing, Mod-Podging- we're always looking for a way to make the magic last out here!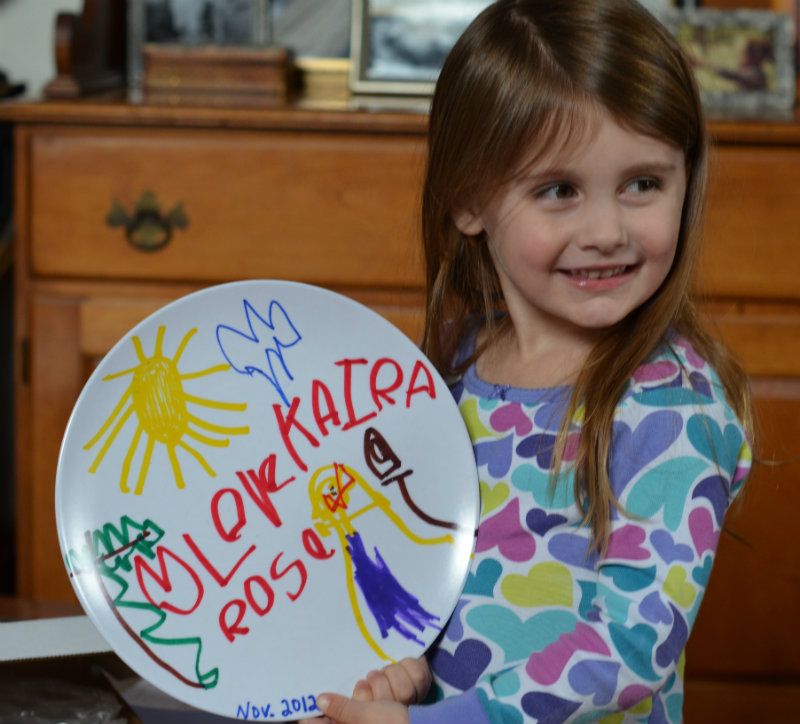 Kaira, opening her plate right out of the mail!
As I wrote in Enough on Your Plate?, we found such a happy solution when our 4-year-old received her Art Plate Kit for her birthday. And because the sweet folks over at MakIt work hard to inspire and encourage creativity for our budding artists, they've graciously offered to send one lucky winner the very same plate kit I raved about in my previous post! Booyah!
This fun set includes 25 templates- to experiment with different design ideas, markers and a free processing voucher for one custom-designed plate to be made and shipped directly to your doorstep!
Want to win it? Each entrant has up to three chances to score this prize. Someone will definitely have an artsy good time with this kit, that's for sure- and you'll cherish your unique plate design for years to come!
So, how do you nab that prize?
To hop into the game pool, leave a comment below about why you'd like to win this groovy Make-A-Plate Kit. A randomizer program will select one winner from the comment list on this page to take home the goods!
Wanna increase your odds?
"Like" From My Hearth to Yours on Facebook for one additional entry. Already on board? Comment separately below and, I do declare, you'll be swimming in that game pool twice! Always trying to increase the odds for regular readers here at the Hearth!
Or scroll down on the right side bar to join up with
From My Hearth to Yours
on Google Friend Connect for yet another entry. Comment to notify me on this page, stay in the Hearth's loop, and tack on one additional shot at the Make-A-Plate Kit!
*Giveaway is open to ALL From My Hearth to Yours readers till Thursday, January 24th at 9p.m. EST. Winner will be announced on Friday, January 25th.
***GIVEAWAY NOW CLOSED*** Thanks for playing!
Congratulations Stephanie (#16) on your WIN!
Good luck, people! Get it. And wait till you see the artist's face when the finished plate arrives! Oh, send us a pic. It's sure to be completely adorable!