Are you and your kiddos down with what's UP?
My girls and I are space cases :::cough (in more than one sense) and are always gazing upward- to learn more about astronomy and what's swirling up in the skies.
One of my earliest childhood memories is of my dad placing
Glow-in-the-Dark Star stickers
all over my ceiling. I'd stare, mesmerized, at the neon green glow until my thoughts, and the color of the stars faded into the black hole nothingness of night.
Naturally, I tried to recreate this experience with my darlings, but I found that the sticker glow fades far too quickly. Maybe my kids just need to fall asleep faster. Yeah, there's that. There's definitely that.
But the teacher in me is always on the lookout for new fun and educational ideas. When I stumbled upon the
Uncle Milton- Moon in My Room
, I knew we'd have to give it a go.
And pardon the cliche, but this thing is out of this world!
After adding batteries, we hung the moon on my daughter's wall and handed her the remote...yes the remote control- to get started.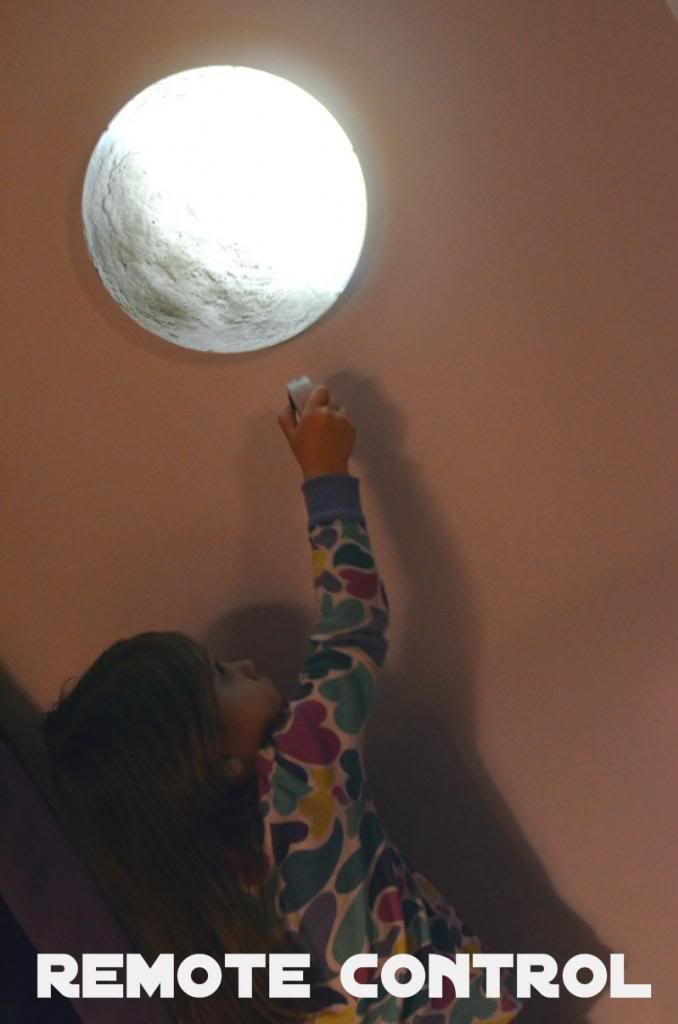 From anywhere in her room, kiddo can shoot for the moon and click through the different lunar phases. We've been trying to match the phase of moon on her wall to that of the moon outside, and this kid has the difference between "waxing" and "waning" down pat now.
Best part? Our budding astronomer uses the light of her very own moon to read in her room after the hall light goes out for the night- and when our lil' bookworm falls asleep mid-chapter, the Uncle Milton moon automatically shuts off after 30 minutes to preserve battery power.
The girls go bonkers over controlling the moon with that remote, and hey- I can't lie- somehow I find a way to take a turn clicking through the phases myself every night. What can I say? It's irresistible!
We are all over the moon for this incredibly fun and educational product. I'm so jealous that I didn't have one of these when I was a kid.
Truth be told, I actually considered getting another one to use as a night-light in our hallway. Then I could play with the remote from my own bed and illuminate my walk at night- to avoid tripping over the booby traps of toys my girls have set in stealth. Space cases, all of us. Can't say I didn't warn you.
Way to go, Uncle Milton! Thanks to your team for bringing the moon down to earth and for giving us the control to learn more about our solar system. Seriously cool!
*
This is NOT a sponsored post. The opinions expressed here are my own. Just writing about something that I think is rad!
Have you found any exciting new products that help teach the wee ones about our universe? Do tell!
P.S. Readers still have until tomorrow night to enter to win the
Make-a-Plate Kit GIVEAWAY
! Hop into the game pool now for your chance to win!