I've never considered myself a girly girl. Mowing the lawn is one of my favorite pastimes, I'd choose a night camping out in a tent over a hotel room any day, I love getting my hands dirty and have even eaten some frog legs, straight from our friends' pond (yes...they DO taste like chicken). In all honesty, I enjoy the challenge of getting comfortable with obstacles that frighten many.
When I have to tackle a shudder-worthy task, I try to imagine myself as Rosie, furl my brow and go at it with the "I am woman! Hear me roar!" mentality.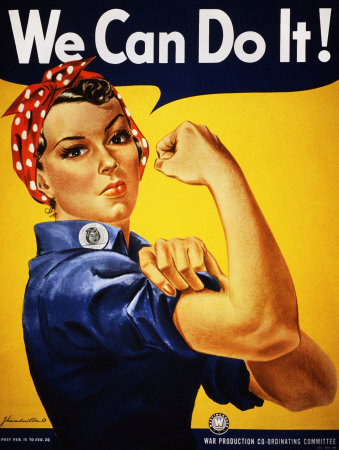 I know the "list" of major fears among Americans. I can hold snakes, handle public speaking and accept that one day we're all going to die. Living near the woods, I've even taken an interest in learning about spiders, beautiful and fascinating creatures...unless they're IN my house. In that case, my mental image of Rosie quickly morphs to one a little less…empowered
.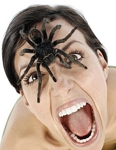 Yeah. That's about right.
Ok, now if I spy a spider creeping along the ceiling in most parts of my home, I'll let a full body roll of the willies run its course, attempt to avoid overreaction, and try to leave it alone.
I mean, what are the odds that it's going to land on my dinner plate, spin its web down on me while I'm showering with one eye open or try to lay eggs in the toe of my slipper (you know you've checked)?
I'll probably never see it again. But for some strange reason hidden deep within my psyche, when it comes to sleeping in a room with a spider lingering in a corner, with its 8 eyes all homed in on ME, I admit that I get heebie jeebies. That lil' dude has got to GO!
Image Source
First let me explain why some of the standard spider removal methods stink. I hope my husband is taking notes.
For awhile I played the damsel in distress card, my voice going up an octave in its sweetest tone.
"Baby? Can you please get that spider out? You're so brave and nimble!"
Good man that he is, he tries to oblige. I've since given up on asking him to tackle future spider eradication because his method is completely ineffective. There are some seriously terrible ways to ditch a spider, but I've got this down to a science now.
The Squish Method: Attempting to squish a spider is a bad idea for three reasons. First, the spider squish is messy business! Aside from the nasty popping sound and sensation, you have to clean off the crime scene as well. I swear that I can still spot residual blood spatter from past massacres, and neither the stain nor the memory will ever fully fade. Macabre to the max.
Second, you've got to be a confident, agile, bullseye spider squishier to pull this off in one shot. We've all been there- gone in to make the kill, lifted the tissue to assess the atrocity, and the spider is GONE! Now you've got a paranoid stealth spider with a definite vendetta creeping around your bed, a far more troubling dilemma than what you started with, for sure!
And third, if you've got the common Daring Jumping Spider on your hands, that lil' hairy arachnid is going to see you coming (with all those probing onyx eyes). If you're not a super sniper with that tissue, he could spring right onto you and launch a massive counter attack. Trust me, I was bitten three times by a startled Jumper who ended up DOWN MY SHIRT last summer, so I know first hand. Never underestimate the small, speedy ones.
Click this
link
to learn more about Jumping Spiders
After my husband employed this method, only to find that tissue empty time and time again, I knew I had to take matters into my own hands.
A bit more effective than the Squish Method, because now you've got some suction power on your side, but this tactic is also flawed.
Obviously, it's a major pain to drag the vacuum out every time you need to get rid of a spider and you can easily scratch up your walls if you've got an unsteady, arachnophobic hand. If you're wonky as it is, you might end up taking out your ceiling fan instead of Spidey.
Also, you have to remember to empty out your bag or canister if you want to be sure that bugger isn't going to attempt an escape and revenge once you've let down your guard. Sure you've got electrically powered appliances, but he's got FANGS.
Let's learn how to do this the right way…
The Glass Act Method
: All you need for this is a bit of courage, a glass and a piece of thick paper. Once you spot your target, take a deep breath. You CAN do this. You WILL sleep soundly tonight.
Now get a clear glass. If you're really spooked, the bigger the mouth of the glass, the better, but once you become a hardcore spider exterminator, a shot glass is ideal for precision if your target is small enough.
If you look closely, we got a good shot of this Jumper's eyes!



If you have kids or you are interested in close examination of the enemy, consider purchasing a

Bug Magnifier Jar

! You can catch your spiders right inside and can get a good look, which could either intensify or diminish any phobia. If you really TRY to find the magnificence in these creatures, all those eyes might seem a little cute up close! Might..





Next grab a thick piece of paper, postcard thickness is best. If your spider is well out of reach, you might need to use a broom or other long object to push it to a corner and then knock it to a cleared area on the ground first. Slowly take your aim and then drop that glass over the spider, making sure you keep the glass flat against the surface of the wall or floor. If you are against a wall or ceiling, a subtle jerk of the glass will drop the spider to the bottom or side, which is best for the next step.
My daughter, examining a Jumping Spider I caught in our basement
Now quickly slide the paper under the glass, creating a lid. Keep your hand tight over the paper and get rid of that sucker. This is also a great opportunity to examine a spider up close, but don't get so mesmerized or freaked out that you let go of your paper or glass or you'll have an arachnid escapee on the run and glass shards to clean up, a definite double fail.
Studying your P.O.W. up close might help you conquer your fear over these little intruders and will make you feel ever so mighty (insert "Rocky" theme song here), so try to make an effort to face your spider before you release it outside.
DO try to release it, since in their natural environment, spiders will help keep mosquitoes and flies away, happily trapping and eating them. Really! If you're currently grinding your teeth at the suggestion of releasing one of these creepsters back into the wild, read this article about the importance of spiders from The Center for Biodiversity at The University of Wisconsin.
Our bug magnifying jar is great for measuring size because of the grid on the bottom. We enjoy being able to examine insects/arachnids closely so we can educate ourselves. Because of the spot on the rear of the Jumper Spider, some might mistake it for a Black Widow. But a Widow's body shape is distinctly different.
Once you feel confident in employing The Glass Act Method for spider removal, you'll be showing your skill off to your friends/spouses in no time. They can use their tissues from their failed Squish Method to dry their eyes as you conquer and destroy, perhaps teaching them to overcome their own arachnophobia in the end. Put those spiders in their place...outside, rinse out your shot glass, perhaps fill it up with a quick celebratory night cap, and then rest easy in your victory. The Glass Act prevails!
To learn more about spiders who thrive in our climate, check out
Spiders of North America
.
And if, after reading this, you find yourself sweating, squinting or flailing your hand onto your back to brush off imaginary arachnids, maybe
THIS
is a better article
for you to unleash your inner spider slayer confidence!
Happy hunting!
XOXO
From My Hearth to Yours